Find HOKIA Plaques
All Honor Our KIA Honorees from Spalding County now have a bronze plaque and a QR Code installed in their memory on a prominent building in downtown Griffin.
Honorees are listed alphabetically without regard to the conflict during which they died.  Beside each name is the street address of their individual plaque.
Also, beside each name is a number representing the location of that plaque on the accompanying orientation map of downtown Griffin.
Keep in mind many buildings have more than one plaque installed there.  Also, while the address faces one street if it's a corner building plaques listed at that address may actually be located on the side street.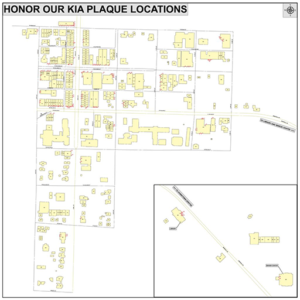 | | | | | | |
| --- | --- | --- | --- | --- | --- |
| Map Number | Last Name | Rank | First Name | Middle Name | Plaque Location |
| 81 | Akins | PFC | Willis | Terrell | 100 S Hill |
| 109 | Allen | Tech 4 | George | Henry | 210 E  Solomon |
| 56 | Allen | PFC | Commer | Eugene | 117 W Taylor |
| 60 | Anderson | Pvt | Floyd | | 116 W Taylor |
| 86 | Anderson | PFC | Gary | | 132 E  Solomon |
| 126 | Apple | Sgt | Ravel | A | 411 E  Solomon |
| 142 | Awtry | Pvt | Charles | L | 318 S Hill |
| 127 | Bailey | Pvt | Aaron | C | 411 E  Solomon |
| 10 | Ballard | Cpl | Arthur | Roland | 202 W Broad |
| 55 | Bankston | Pvt | William | E | 113 W Taylor |
| 78 | Barfield | 1st Sgt | Noah | W | 101 S Hill |
| 35 | Barlow | Pvt | Wilber | | 113 E Solomon |
| 84 | Barnett | Sgt | Troy | D | 132 E Solomon |
| 27 | Bates | Seaman2nd C | Fred | Wilson | 117 N Hill |
| 51 | Baugh | PFC | Howard | L | 137 S Hill |
| 5 | Beckham | Sgt | James | Harold | 119 W Solomon |
| 131 | Belk | Pvt | Pletz | J | 410 E Taylor |
| 93 | Biles | Pvt | Linwood | Ray | 129 S 6th |
| 96 | Blake, Jr. | PFC | James | Edward | 113 E Taylor |
| 139 | Boggs | | John | Joseph | 211 S 6th |
| 38 | Bolton | Lt | Wm | Maddox | 127 E Solomon |
| 65 | Bozeman | Tech 5 | Annon | Irve | 131 W Taylor |
| 53 | Brock | PFC | Wilborn | Wesley | 111 W Taylor |
| 18 | Brown | PFC | Lewis | N | 143 N Hill |
| 22 | Buckalew | Pvt | Paul | E | 143 N Hill |
| 25 | Burnett | Staff Sgt | James | N | 125 N Hill |
| 103 | Butler, Jr. | Staff Sgt | Abraham | Bradford | 128 S Hill |
| 107 | Byars | PFC | Bobby | Ladon | 100 S Hill |
| 39 | Chambley | Fireman1C | Ralph | Marion | 101 S Hill |
| 57 | Chapman | PFC | Edmond | R | 117 W Taylor |
| 90 | Chapman, Jr. | Sgt | Albert | "Tag" | 132 E Solomon |
| 9 | Cobb | Pvt | Fred | E | 141 W Solomon |
| 80 | Coggins | PFC | James | Terry | 100 S Hill |
| 149 | Conkle | Seaman | George | Holman | 800 Memorial Dr. |
| 24 | Cook | Pvt | Otis | E | 143 N Hill |
| 118 | Cook | Pvt | Samuel | Leon | 110 S 5th |
| 141 | Cooley, Sr. | Sgt | Hoke | S | 301 S Hill |
| 144 | Corley | Staff Sgt | William | F | 436 S Hill |
| 54 | Cottingham | Pvt | James | A | 113 W Taylor |
| 143 | Coulter, Jr. | Sgt | William | R | 318 S Hill |
| 137 | Crowder | Sgt | Robert | L | 410 E Taylor |
| 124 | Dallas, Jr. | 1st Lt | Thomas | R | 432 E Broad |
| 21 | Davis | SPC | Johnathon | Frank | 143 N Hill |
| 13 | Doke | Capt | Raymond | L | 143 N Hill |
| 77 | Duncan | 2nd Lt | Robert | W | 101 S Hill |
| 28 | Edwards | Pvt | Lloyd | E | 107 N Hill |
| 117 | Eppinger | PFC | Martin | | 110 S 5th |
| 102 | Farley | Pvt | James | Milton | 136 S Hill |
| 29 | Faulkner | PFC | Jeremy | Pat | 124 N Hill |
| 151 | Ferguson | Capt. | Robert | Langdon | 800 Memorial Dr. |
| 15 | Fleming | Seaman 2nd C | Hosea | McCall | 143 N Hill |
| 108 | Forbes, Jr. | Lt | Walter | Benjamin | 210 E Solomon |
| 6 | Gaddy | PFC | Robert | | 141 W Solomon |
| 34 | Gaddy | PFC | Willie | Gene | 113 E Solomon |
| 14 | Gilbert | Staff Sgt | Chesley | George | 143 N Hill |
| 125 | Goddard | PFC | Merrill | J | 432 E Broad |
| 115 | Goen | Cpl | Albert | R | 310 E Solomon |
| 67 | Goodman | PFC | Mickey | E | 122 S 8th |
| 92 | Goolsby, Jr. | Pvt | Ira | G | 121 S 6th |
| 44 | Graham | Pvt | Rufus | | 137 S Hill |
| 76 | Gregory | Pvt | Thomas | Maston | 120 W Solomon |
| 135 | Gunnin | 1st Lt | William | Palmer (Tex) | 410 E Taylor |
| 146 | Hall | PFC | Charles | Wayne | 505 S Hill |
| 31 | Hammond | Pvt | Edd | | 113 E Solomon |
| 121 | Hand | PFC | Wyley | Hoyt | 335 E Solomon |
| 122 | Hand, Jr. | Cpl | Charlie | L | 432 E Broad |
| 73 | Harmon | Cpl | James | Edward | 132 W Solomon |
| 16 | Harris | PFC | Hilton | T | 143 N Hill |
| 147 | Harris | Fireman 1st C | Hiram | Dennis | 505 S Hill |
| 43 | Harris | LCpl | James | Thomas | 127 S Hill |
| 79 | Hawkins, Jr. | 2nd Lt | Thaddeus | Isiah | 101 S Hill |
| 52 | Haynes | Pvt | Emory | H. | 137 S Hill |
| 32 | Helton | Sgt | John | K | 113 E Solomon |
| 45 | Hollar, Jr | SFC | Robert | Lee | 137 S Hill |
| 104 | Holt | PFC | Amos | Paul | 126 S Hill |
| 91 | Hunter | Cpl | Millard | Harold | 121 S 6th |
| 111 | Hurst | Pvt | Cecil | Pace | 205 E Taylor |
| 128 | Jackson | 2nd Lt. | Johnnie | Eugene | 411 E Solomon |
| 116 | Johnson | Seaman 1st C | Calvin | | 110 S 5th |
| 129 | Johnson | Sgt | Hugh | Dorsey | 411 E Solomon |
| 94 | Johnson | Fireman 1st C | John | Clarence | 129 S 6th |
| 74 | Johnston | Cpl | Earl | | 128 W Solomon |
| 85 | Jones | 1st Lt | Ralph | M | 132 E Solomon |
| 50 | Jones | 1st Lt | William | R (Bill) | 137 S Hill |
| 87 | Kenerly | Cpl | Warren | Eugene | 132 E Solomon |
| 148 | Kennedy | PFC | Robert | R | 505 S Hill |
| 99 | Kilgore | Pvt | James | L. (Skeet) | 136 S Hill |
| 41 | Kinasz | PFC | Monte | Clifford | 103 S Hill |
| 95 | King | Pvt | Lovic | Blanton | 113 E Taylor |
| 112 | King | PFC | Wiley | Gwin | 203 E Taylor |
| 156 | Larkin | Lt | Jasper | Kennedy (Kay) | 885 Memorial Dr. |
| 98 | Lawler | Pvt | Albert | L | 113 E Taylor |
| 23 | Long | Sgt | Aubrey | Cecil | 143 N Hill |
| 130 | Madison | Tech Sgt | Kellis | Lamar | 410 E Taylor |
| 69 | Mallory | Pvt | Willie | L. | 136 W Solomon |
| 89 | Manning | Tech 5 | Raymond | Alton | 132 E Solomon |
| 61 | Martin | 1st Lt | James | O | 118 W Taylor |
| 145 | Martin | Cpl | Linwood | P | 505 S Hill |
| 119 | McDonald | Pvt | Joe | V | 335 E Solomon |
| 36 | McDowell | PFC | Burnell | | 117 E Solomon |
| 64 | McElroy | Sgt | Paul | Davis | 131 W Taylor |
| 3 | Melton | 2ndLt | Frederick | Davenport | 101 N Hill |
| 140 | Meyers | Tech 4 | Talmadge | Thomas | 301 S Hill |
| 1 | Middlebrooks | Cpl | Henry | E | 101 N Hill |
| 42 | Milner | Cpl | Artis | | 127 S Hill |
| 40 | Moon | Pvt | Cecil | Ray | 101 S Hill |
| 132 | Mooney, Jr. | Capt | William | Henry | 410 E Taylor |
| 75 | Murphy | Cpl | David | | 126 W Solomon |
| 58 | Nealy | Lt Col | Erne | Anderson | 121 W Taylor |
| 97 | Newman | PFC | Lamar | Eugene | 113 E Taylor |
| 20 | Norton | Cpl | Daniel | Grier | 143 N Hill |
| 37 | Parham | 2nd Lt | Albert | | 119 E Solomon |
| 138 | Parsons | Sgt | James | W | 211 S 6th |
| 136 | Patrick | 2nd  Lt | Connell | | 410 E Taylor |
| 59 | Pattillo | Sgt | Minor | Wesley | 121 W Taylor |
| 49 | Phillips | Pvt | James | | 137 S Hill |
| 2 | Phillips, Jr. | Cpl | John | H. | 101 N Hill |
| 100 | Ponder | Pvt | Northen | Watson | 136 S Hill |
| 11 | Posey | Pvt | James | Franklin | 202 W Broad |
| 105 | Powell | Tech 5 | Charles | Wesley | 126 S Hill |
| 70 | Proctor | Sgt | James | | 136 W Solomon |
| 33 | Reese | 1st Lt | James | R | 113 E Solomon |
| 154 | Reynolds | Pvt | James | | 800 Memorial Dr. |
| 88 | Rickerson | Capt | Saint | Elmo | 132 E Solomon |
| 62 | Rivers | SFC | Melvin | C | 125 W Taylor |
| 46 | Roberts | PFC | Penia | | 137 S Hill |
| 48 | Rodgers | LCpl | Christopher | Blake | 137 S Hill |
| 30 | Shedd | Pvt | Charles | Lucurie | 124 N Hill |
| 63 | Sikes | Pvt | Cecil | Marion | 125 W Taylor |
| 106 | Smith | Pvt | Alvertis | | 100 S Hill |
| 153 | Smith | Lt | Charles | Davis "Snag" | 800 Memorial Dr. |
| 155 | Smith | Pvt | Herman | W | 885 Memorial Dr. |
| 150 | Smith | Staff Sgt | Woodrow | Wilson | 800 Memorial Dr. |
| 114 | Stephens | Pvt | Robert | Lewis | 310 E Solomon |
| 123 | Tate | PFC | Harry | E | 432 E Broad |
| 12 | Terrell | Pvt | Albert | James | 143 N Hill |
| 134 | Thomas | PFC | Roy | Wesley | 410 E Taylor |
| 71 | Thompson | PFC | Leon | Bernard | 136 W Solomon |
| 120 | Thompson | Pvt | Rufus | Jack | 335 E Solomon |
| 82 | Touchstone | Pvt | James | | 100 S Hill |
| 4 | Tuggle | Pvt | Eugene | | 101 N Hill |
| 113 | Underwood | Pvt | Robert | A | 310 E Solomon |
| 101 | Vaughn | Pvt | Linwood | | 136 S Hill |
| 83 | Wadsworth | Sgt | Earl | Starr | 100 S Hill |
| 110 | Walker, Jr. | PFC | Willie | James | 207 E Taylor |
| 152 | Wallace, III | Tech 5 | John | Emmett | 800 Memorial Dr. |
| 72 | Washington | Pvt | John | Earnest | 132 W Solomon |
| 66 | Wells, Jr. | Pvt | Roy | C | 122 S 8th |
| 8 | White | 2nd Lt | Luella | | 141 W Solomon |
| 47 | Wilheit | Capt | Phillip | Arthur | 137 S Hill |
| 19 | William | Pvt | Joe | | 143 N Hill |
| 133 | Williams | LCpl | James | Thomas | 420 E Taylor |
| 7 | Wimbish | Cpl | Albert | | 141 W Solomon |
| 17 | Womack | Pvt | Robert | Linwood | 143 N Hill |
| 68 | Wooten | Pvt | Thomas | Eugene | 136 W Solomon |
| 26 | Wynn | PFC | Aubry | A.R. | 125 N Hill |