Children's Honor Chorus Filmed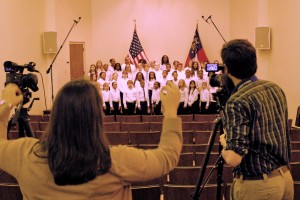 The Griffin-Spalding County Schools Elementary Honor Chorus, under the direction of Ms. Laura Forehand Conductor, are shown being filmed recently at Southern Crescent Technical College singing anthems of the service branches and other patriotic songs. The chorus is made up of students in the fourth and fifth grades at local grammar schools.
This chorus, believed to be unique in central Georgia, is the product of a cooperative partnership between Ms. Sharlene Patterson. Asst. Superintendent, Ms. Nina Williams, Coordinator and Ms. Forehand, Conductor representing the Griffin-Spalding County School System, Mr. Hal Rahn, president of Norcom, Inc. and local committee Honor Our KIA.
According to Quimby Melton, Chairman of Honor Our KIA, it was hoped that the chorus could appear in person at local civic clubs but the logistics of that made it impractical. Instead the children were videoed by Southern Crescent's C.J. Bowman and Gary Pitts and the video will be shown at club meetings by Honor Our KIA Committee members.
Any local organization interested in having this program presented to them should contact Honor Our KIA at 770-468-9511.